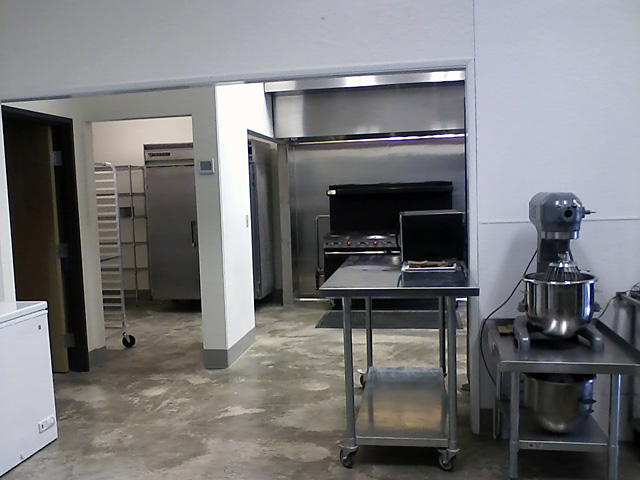 Renegade Kitchens is a licensed commercial kitchen available to rent by the hour. Our hourly rates are tiered based on facility usage.
Update: Renegade Kitchens is currently not accepting new tenants.
We value your interest and are always willing to help answer questions about potential future slots.  Thank you & best of luck in all your food adventures!
Tenant Application
Want to be a Renegade Kitchens tenant? Download our tenant application (for both commercial use and non-commercial use):
You may return completed applications by mail, fax or email. The application fee is $25.
Rates
| Monthly Hours | Hourly Rate |
| --- | --- |
| 1 to 15 hours | $24/hr |
| 16 to 30 hours | $21/hr |
| 31 to 45 hours | $18/hr |
| 46+ hours | $15/hr |
Refundable Deposit: $150
Min. Rental Hours: 2 (with the exception of some classes, min. 1 hour)
Rental Increments: 30 min (after minimum is met)
Dry Storage: $10/mo for small rack; $12/mo for large rack
Refrigerated Storage: $15/mo for one "door"
Freezer Storage: Included as part of base fees, limited space available
Locker Storage: Included as part of base fees, limited space available
Floor Space: Case by case basis, will depend on amount of sq. ft.
Policies
Storage Usage: There is no extra charge for use of lockers, dry storage, freezer or refrigerators if used only during rental session(s). Monthly storage rates are assessed for continuous storage and can be pro-rated for partial months.
Pre-payment: Rented time is pre-paid. Billing for each month will occur a week prior to the month in question; exact date may vary each month, notification will be sent when billing is about to take place. If appointments are scheduled within the same month, payment will be required immediately after the times have been finalized.
Cancellation: If a cancellation causes a tenant to drop in pricing tiers and no arrangements are made to fulfill the necessary hours before month end, a fee will be assessed to cover the price-tier difference. If a cancellation is requested the day of the rental appointment, there will be a $15 flat fee in addition to any potential price-tier correction fee.
No-call/no-shows may not get a refund for their pre-paid hours. If you cannot make your appointment, we strongly encourage you to contact us as far in advance as possible.
Contact us for more information on rates and policies.